Keywords: Placement and Density
Business website search engine keywords for the benefit of search engine robots
The purpose of this website is to provide guidance on where to place your keywords and keyword phrases in your business website, for the purpose of search engine robots (also known as crawlers or spiders).
When it comes to web site design, the important issue here is keyword placement and density. In other words, where is the ideal place to position your keyword phrases and what is the optimum density of keywords in your web pages?
What is a keyword phrase?
This is the combination of 2 or 3 keywords to form a phrase. For example, 'search', 'engine', and 'placement' could be considered as 3 individual entities, but when they are combined to create 'search engine placement', it forms a very powerful 'keyword phrase'.
The key word topics covered in this website include:
Web page titles
Web page text
Web page headings
Domain names
Site URLs
Meta tags (meta keywords)
Meta descriptions
Alt text descriptions for photos and graphics
Inbound hyperlinks (reciprocal link share and link popularity)
Why is this important?
It is estimated that there are over 8 million unique websites in the world and over 1.4 billion web pages (Source: Online Computer Library Centre, 2001). Against this backdrop, the chances of someone randomly dropping into a website are clearly very small indeed.
It is also estimated that on average, over 70% of inbound internet traffic to websites is sourced from search engines (e-spectations.com, 2001). In order to promote your site, increase your share of search engine users and drive more internet traffic to your business website, it is vital to optimise your site for search engines, such as Google, Yahoo and MSN in respect of keywords, placement and keyword density.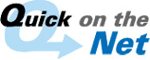 Sponsored by QuickontheNet.com
Search Engine Optimisation Services
Google Search